CEC in Numbers – 4,158,000,000
March 25, 2021
Dear colleagues,
Today marks 200 years since Greek independence from Ottoman rule. The Greek revolution (1821-1830) followed 400 years of hardship, taxation, intellectual drain, family separations, and societal divide. As we pave the way for building communities in which everyone can thrive, what can we learn from the Greeks' fight for freedom?
Looking at history through this lens, I have identified four investments in change that can illuminate our approach to creating a just and equitable world. All of these span the local and the global:
Financial – Greeks in Greece and abroad as well as foreigners supported the revolution with funding.
Intellectually – The language was revised to instill pride and spread knowledge.
Culturally – Education safeguarded the language and religion.
Artistically – Artists, in Greece and abroad, used the arts to solidify shared values.
Investing in change financially tied in my mind Laskarina Bouboulina to Mackenzie Scott. Both women's commitment to change translated to putting funds behind their words. Mackenzie Scottdonated more than $4,158 billion to 384 organizations in December 2020. These funds will help fulfill basic needs for many Americans struggling in the pandemic, including women, people of color, and people living in poverty. Recipients include community colleges and universities like Blackfeet Community College in Montana; food banks and meal providers like Feeding America, America's Second Harvest and Meals on Wheels; and many individual YMCAs and YWCAs. Her gifts are unrestricted, allowing recipients to use the money however they best see fit.
See below for more on these 1821 stories and lessons. For events marking the 200 anniversary, see Greece2021.Look forward to hearing your thoughts.
---
Investing in change financially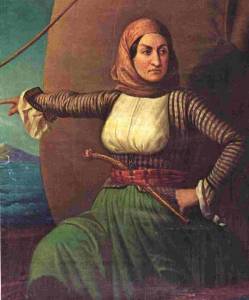 Laskarina Bouboulina (1771 – 1825) was one of few women who were part of Filiki Etaireia, the underground organization that was preparing Greece for revolution against Ottoman rule.
Bouboulina used her fortune to buy arms and ammunition and brought them secretly to Spetses in her ships, to fight "for the sake of my nation." She also organized her own armed troops, composed of men from the island of Spetses.
Image credits:
https://www.gtp.gr/TDirectoryDetails.asp?ID=80581
https://en.wikipedia.org/wiki/Laskarina_Bouboulina
How can we entice financial investments in change from both the private and public sector?
---
Investing in change intellectually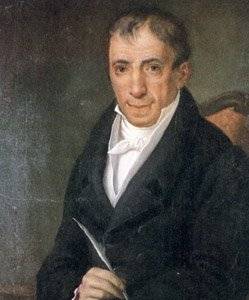 Adamantios Korais, a classical scholar and an expat in Paris, redefined the Greek language. At the time, Greeks spoke in different idioms, and Korais helped devise a simpler language, one devoid of "foreign" elements, ultimately publishing the first modern Greek dictionary. He also encouraged wealthy Greeks to open new libraries and schools throughout Greece. Korais believed that education would ensure not only the achievement of independence but also the establishment of a proper constitution for the new liberated Greek state.
Additionally, he advocated the restoration and use of the term "Hellene" (Έλληνας) as an ethnonym for the Greeks, in the place of Romiós, that was seen negatively by him
Image credit:
https://en.wikipedia.org/wiki/Adamantios_Korais
Words like "diversity, equity, and inclusion" are loaded with power –
who has the power to include whom? Focusing on DEI is not enough.
We need new vocabulary, one that communicates the need to take a stand and identify systems of exclusion as well as work to change them.
We need words that are action-oriented and call on us to become agents of change.
We need verbs that capture a way of being and thinking in the world that encompasses all we do –
reversing inequalities is not a list of initiatives that can be undertaken on the side.
I propose CONSIDER.
---
Investing in change culturally
Although many question whether "secret schools" truly existed, the fact remains that Greek language and literacy remained alive through 400 years of occupation. What are known as κρυφό σκολειό, took place in monasteries and churches such as the
Holy Monastery of the Philosopher in Dimitsana.
Image credit: https://el.wikipedia.org/wiki/Κρυφό_Σχολειό; https://www.kastra.eu/pics/filosof1.jpg
Investing in education will take commitment to decolonizing curricula through actions such as assessing theoretical frameworks, capitalizing on immersive experiences, recognizing that "we are all in this together," and interrogating practice, policies, and procedures.
---
Investing in change artistically
Eugène Delacroix, "Scène des massacres de Scio" (1822)- Wikimedia Commons
Artists, both Greek and foreign artists, according to Mariana Varvarigou, paved "the way for the political era of revolutions: the age of stability against the age of revolutions, traditionalism against progressivism, imitations of life against creations of new worlds through artistic imagination exploring the unknown."
Many Europeans identified with the Greek struggle against the Ottomans, partly due to shared cultural and philosophical origins with Greece as well as shared values and ideals of freedom. French artists such as Eugène Delacroix's "Scène des massacres de Scio" immortalized the Greek struggle, cultivating philhellenic sympathy by the press and helping motivate financial and other forms of support for the Greek struggle. At the same time, Greek artists such as Theodoros Vryzakis captured stories of the revolution with an archival realism, creating some form of documentation.
Image and excerpt credit: https://greeknewsagenda.gr/topics/culture-society/7175-the-visual-representation-of-the-1821-greek-war-of-independence-through-the-eyes-of-greek-and-foreign-artists-2
Theodoros P. Vryzakis, "The Army Camp of General Karaiskakis" (1855) – Wikimedia Commons
How can design better reflect and represent the past while reimagining
a just and equitable future?
And how can design help bridge the local and the global in the call for
building communities in which everyone can thrive?