July 20, 2022
Dear Cultural Enrichers,
Today marks 48 years since the Turkish invasion of Cyprus that catapulted 1 in 3 residents of the island into life as refugees, my family included. Data from the UN Refugee Agency show that in 2021, 89.3 million people around the world have been forced to flee their homes. Among them are nearly 27.1 million refugees (41 percent of whom are under the age of 18—even though children account for 30 percent of the world's population) and 53.2 million internally displaced people. In fact, in 2021, the world has witnessed the highest ever number of forcibly displaced people—1 in every 78 people on earth has been forced to flee.
George Seferis, one of Greece's Nobel laureate poets, captures the plight of refugees in his 1944 poem "Ο τελευταίος σταθμός" (The last stop):
But the thought of the refugee the thought of the captive
the thought
of the person who ended up for sale
try to change it, you can't….
Through the words "you can't….," the poet forces us to pause and be intentional in our choices – do we engage with such a complex and politically charged societal challenge and if so, how? Below, you can learn more about two ways by which design education and memorial design can confront injustice, restore dignity, and cultivate resilience.
Let's amplify design's relevance,


Dr. Tasoulla Hadjiyanni, Founding Director
Northrop Professor, Interior Design, University of Minnesota
[email protected]
---
2023 IDEC STUDENT DESIGN COMPETITION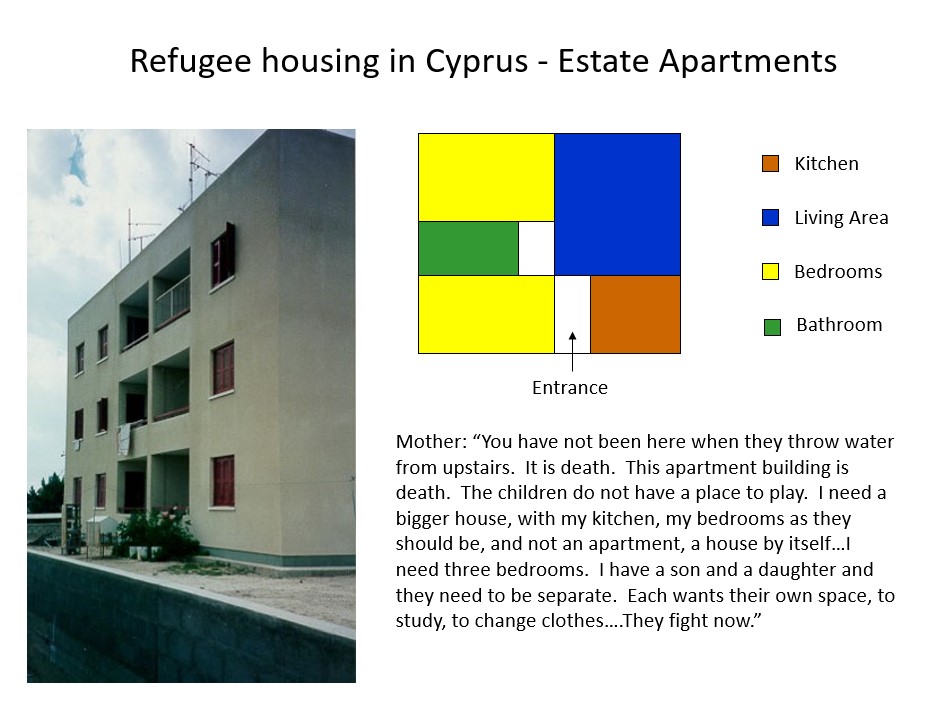 This year, the Interior Design Educators Council's (IDEC) Student Design Competition nurtures global citizens by exposing students to the multi-faceted challenge of designing supportive housing for refugees.
My interviews with 100 refugee families in Cyprus, summarized in "The Making of a Refugee – Children Adopting Refugee Identity in Cyprus", shed light on how housing that was not supportive of their way of living, suppressed peoples' ability to thrive. In the example above, the mother laments living in an apartment, an unfamiliar type of housing to many from rural areas in 1974. The apartment's spatial layout is also against normative structures that call for the kitchen to be placed in the back of homes so it is not visible to guests.
Host communities often have little time to prepare for the refugees' mass exodus, let alone create supportive housing "with" those displaced–not "for" them. Therefore, when I was invited by Dr. Joan Dickinson, Journal of Interior Design (JID) Editor-in-Chief, to compose the virtual Special Issue that would act as a reference for the competition, I focused on three key areas of intervention. "When you can't – Designing supportive housing for refugees" uses articles from JID's archives to expose the nuances that can amplify the supportive aspect of housing for refugees at the aftermath of displacement: de-lumping vulnerabilities, rebuilding dignity, and cultivating resilience.
---
KONTEA'S MEMORIAL FOR THE MISSING AND MURDERED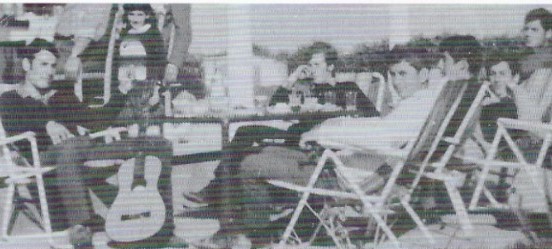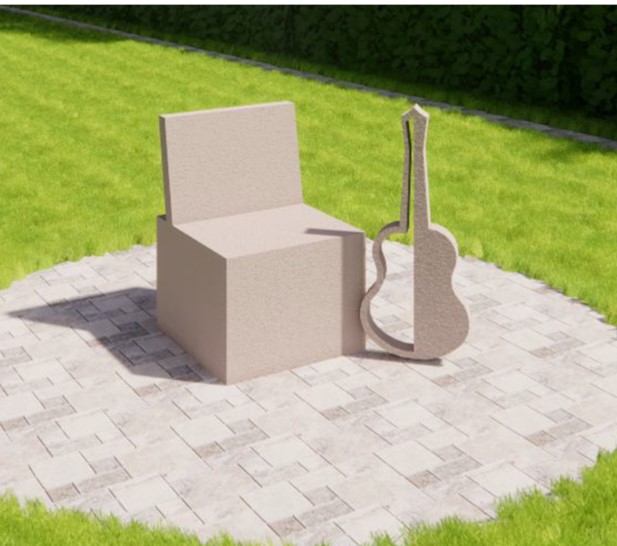 The aftermath of the Turkish invasion of Cyprus included nine people missing and murdered from Kontea. Designing a memorial 48 years later, my role as a curator was to structure a community-engaged design process that honors the lives lost and the families' traumas, reimagines how memorial design can tie the past to the present, inspires a resilient future, and helps revitalize a neighborhood.
"Learn their stories" engages visitors to reflect on both existential and practical questions raised from the stories of those missing and murdered. Above you can see Sergeant's Antonis Charalambous Demosthenous memorial, which draws inspiration from his last picture. Designed by architect Christina Petrou, it invites visitors to take Antonis' position and consider what it means to be human.
---