The Welfare State 2.0 : Co-creating a new citizen-driven future
Bo Christiansen. Architect MAA (Member of Architects Association), Founder of Scaledenmark
I have the fondest memories as a young child in the 1960s, visiting and vacationing at my grandparents' dairy farm at a beautiful white-chalked farmhouse outside the coastal town of Løkken in north-western Denmark (Figure 1).
My grandfather was deeply engaged in the local community, and quite skilled in creating a bit of magic and memories with neighborhood gatherings. When visiting he would help us build our own little carnival with tombola under the windswept trees, while my grandmother (who was a stout and charming woman), was the most gracious host welcoming the many visitors and helpers of the farm (Figure 2). This was truly a place where social life existed and thrived through daily work challenges. I could see first-hand how life on the farm represented so many cultural, ethnological and environmental values. The health and well-being of the land, animals, and people within this community was undeniably interconnected, and an early example from my childhood in understanding sustainability and social collectivism.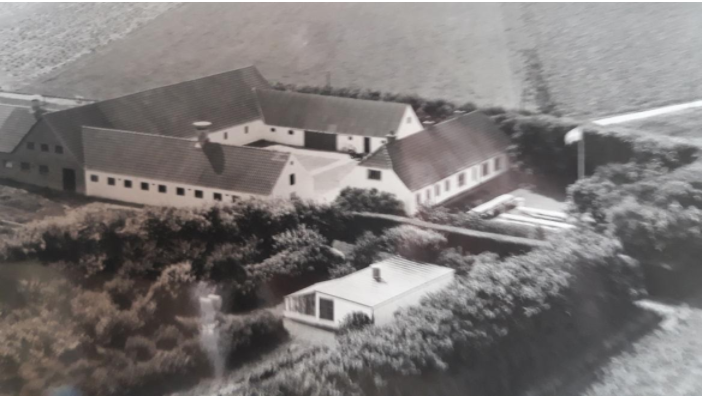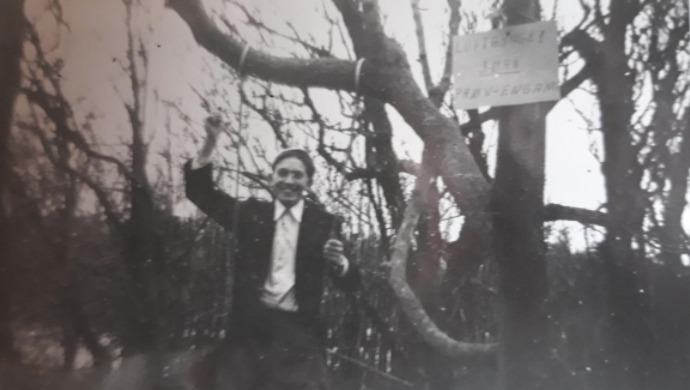 Perhaps my most vivid memories are the many meals, coffee, and tea breaks spent at the farm. We always had the best butter for our table spread, and the pride of the farm was no doubt the herd of light brown Jersey cows that produced the highest quality butter for the Danish butter export brand, Lurpak.
Ingstrup Dairy & the cooperative movement
I was delighted when my grandmother would share stories from her own childhood growing up at the nearby Ingstrup Mejeri(Ingstrup Dairy) where her father worked as a dairyman (Figure 3). This village dairy was founded in 1890, evolving into a modern, more industrialized dairy in the 1930s, and has transformed back to a small craft dairy since the 2000s. Today the company is employee-owned, where its cooperative management and a bottom-up approach foster a high level of worker satisfaction, trust, health and commitment. To this day, I am always impressed with the quality and selection of Ingstrup cheeses when shopping in local markets in Copenhagen. Copenhagen has become a foodie haven for high-quality, organic and sustainable food culture. Seeing a small dairy business thrive in the epicenter of new Nordic cuisine is something to be proud of, especially given my personal connection. It reflects a value-driven culture that is so prevalent in Denmark, where sense of purpose is often found in working for the common good.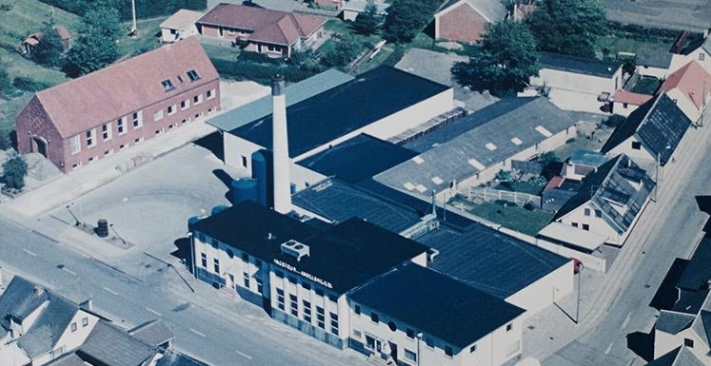 In many ways, the history and innovation of Ingstrup Dairy illustrates the many benefits of modern Danish society. The success of Ingstrup Dairy is rooted in the cooperative movement, an economic culture of strong labor unions and a large public sector. For a small country like Denmark, cooperatives were an important export model throughout the 20th century. Cooperatives increased national competitiveness by creating shared opportunity for export and technological research – a critical step for Denmark to become a leading country in dairy production. Perhaps more importantly, the cooperative movement was meant to leverage the strength of local capacity for long-term sustainability through a collective-based management approach.
The Danish Welfare Model
The Nordic countries are recognized for their value-based governance models that promote responsible, resource-minded, and socially and environmentally resilient communities. The Danish system is one of the most extensive and generous public welfare models in the western world (Figure 4). With free education, public support, and a well-developed public health service, the Danish model offers life-long learning and social security. Quite simply, you can get treatment at the hospital when you are sick and receive economic assistance if you lose your job, go to school, expand your family, and when you grow old. Most notably, the Danish welfare model is a system based on trust. It is unbelievable to many outside the Nordic region that we pay between 40-60 percent in tax with a certain amount of pride and satisfaction. We have the highest level of trust and the lowest level of corruption, so naturally many countries in the world would like to get to where we are.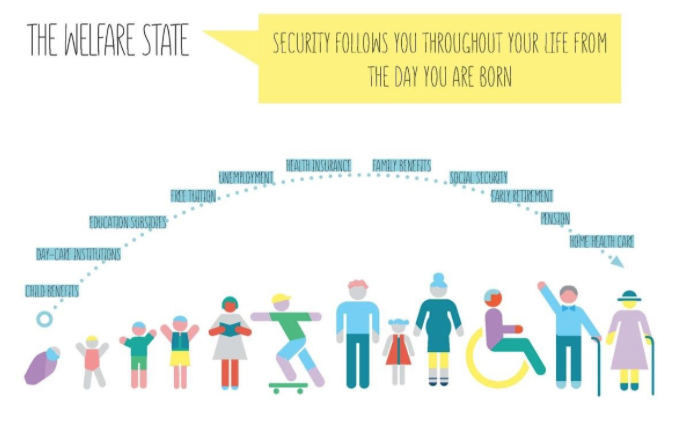 Nevertheless, the model is facing challenges – economic growth has been slow, and global competition and changing demographics has set the model under pressure. There is a renewed tendency in our modern welfare state to ensure Danish society offers equal opportunities and equal treatment to all. It is a cultural, humanistic, and social approach that requires new forms of citizen participation and leadership.
Local activism – Sharinggentofte
Danes value their community and civic participation. Moreover, they value equality over exclusion. The social welfare state illustrates how people do not experience policies but rather they experience the services attached them. Beyond services, our society needs to communicate equality, inclusiveness, trust and empathy to ensure a high quality of life for all people. Here in Denmark, I live in Gentofte – a well-to-do northern suburb of Copenhagen situated among beautiful nature areas, public beaches, marinas and harbors, and popular cultural institutions. The local government has been eager to become a leader in "green" initiatives and quality of life boosting services for its residents. A lifelong design advocate and architect, design and activism have been my tools for promoting the social, cultural, and environmental values I have grown up with. Alongside my friends and neighbors, I knew there were so many people like me with a passion for making our community more sustainable, accessible and inclusive. I couldn't accept that we needed to wait for our local leaders to shift the current paradigm that we are living in, that would inevitably deepen the divide among marginalized groups in our affluent neighborhood.
With the support of my good friend and fellow advocate, Heidi Eid, we founded Sharinggentofte. Sharinggentofte is a citizen-driven, non-political platform for local residents to share ideas, resources, talents and services to create space for greater community participation and improved municipal decision-making. We wanted to create a new partnership model between citizens and local leadership that could more accurately reflect our community values in regard to sustainability, diversity, and health. Our mission is to co-create our future, while elevating voices that are not commonly heard. Before establishing Sharinggentofte, we noticed that both the older and younger generations in Gentofte expected the municipality to be more proactive in implementing future-oriented, people-centered solutions promoting health and well-being. It was troubling to many residents that there was no clear strategy for local development that considered new outlooks for a new resource-minded community. It was clear that while we can typically rely on many services from the municipality through the social welfare model, social responsibility and decision-making cannot rest solely with politicians. We all have a responsibility as a stakeholder in our community to promote health, equity, and dignity. Our welfare model needs to evolve as holistically as possible, making room for everyone through active civic participation and dialogue.
To address these concerns, we knew we needed to both better understand our community as well as set appropriate goals for our collaboration with the Gentofte municipality. Our short-term goals were to simply connect people with people -young and old, Danes to non-Danes, students to CEOs. Our long-term goals were to establish a network of decentralized community spaces that could offer shared amenities, opportunities for organized events, or simply friendly gathering places that every resident felt ownership of.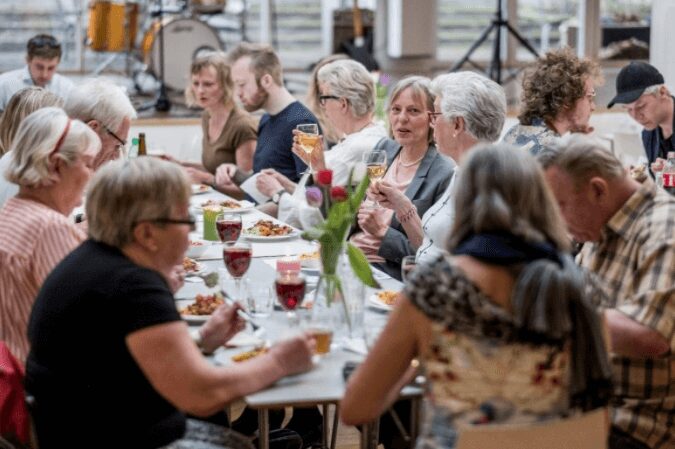 We first started our community-building strategy over the magic of fællesspisning (a shared meal in Danish)(Figure 5). We hosted a series of pop-up community dinners in underutilized or non-programmed spaces to provide new opportunities for meeting, inclusion, and celebration. We approached each organized event as a public-space shaping process, ensuring the existing qualities of each place were well-matched with the event, and could be easily adapted to support a diversity of use and users. We are proud that one of our early initiatives, 'Byens Hus' (The City House) has become an official municipal-endorsed program for volunteer and citizen-centered initiatives (Figure 6).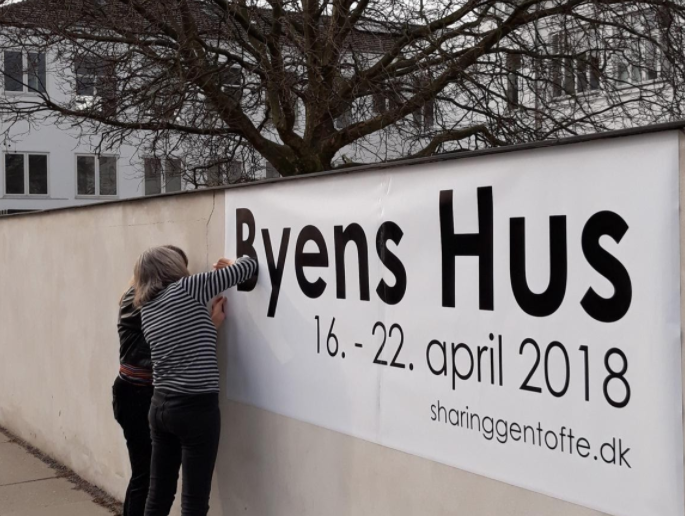 When a previous international school needed new life and new tenants to fill its empty classrooms and hallways, the municipality repurposed part of the former school building with temporary refugee housing alongside Gentofte's Volunteer Center, an organization assisting with integration and immigration challenges. We saw a 'too good to be true' opportunity to transform the neighboring spaces within the building complex to support and inspire community-engagement, as well as encourage local residents to meet and connect with the newest Danish citizens under the same roof (Figure 7).
While most refugees living in Gentofte are single men under the age of 25, there are also several families with children living in unfamiliar surroundings in need of empathy and guidance in adjusting to their new life in Denmark. Before Byens Hus was formally established, we held several 'pop-up' events with nightly common dinners in our attempt to provide an inclusive social program (Figure 8). Our mission was to create a social framework for refugee families to connect with their neighbors, practice their Danish (which was very impressive, to say the least!), and feel a sense of comfort in the face of their displacement.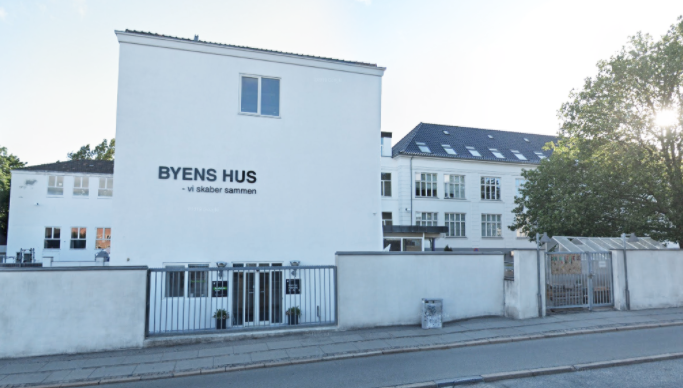 We were lucky to have had many of the in-house refugees participate in our Byens Hus-organized events (and continue to do so). Our role in empowering civic participation starts with those voices – old-Danish or new-Danish – that need to be heard. It is no secret that Denmark and its socially-supportive system will need to re-adapt and rethink its inclusive policies for immigrants. In the past 15 years, Denmark's immigrant population has nearly doubled to over 13% of the national population, completely transforming the cross-cultural realities between minority and majority cultures. In Denmark, immigrants are often portrayed in simple, stereotypical terms such as "hard-working" or "highly skilled." We know that the motivations behind migration, and the identity behind displaced refugees runs so much deeper than these anonymous terms. The act of sharing a cup of coffee with a stranger or feeling the welcome of community through fællesspisning are simple but important steps to bridge cultural perspectives.
While Sharinggentofte is a non-political organization, we recognize that we simply cannot afford to wait for political representation for marginalized communities. Byens Hus is a testament to the evolution of Sharinggentofte's activism, where co-creation, social inclusion and a sense of belonging is at the heart of what we do.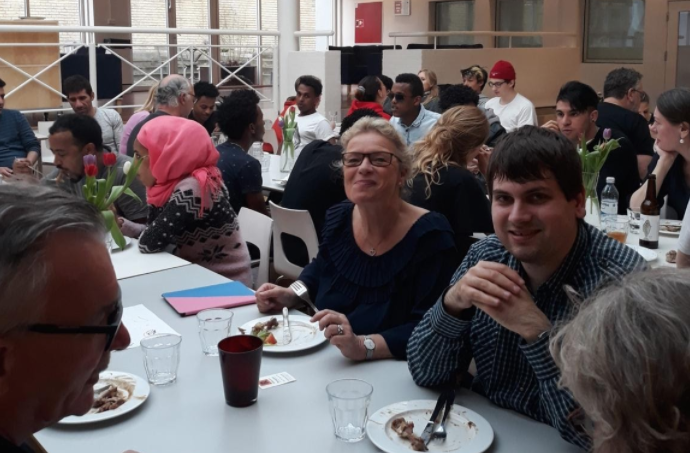 In addition to our community dinners, we hosted a series of sustainability and resource-sharing workshops organized by local residents to promote our varied expertise and goals for community-based engagement, planning, and programming. We held a week-long program celebrating the coastal comforts of our district, with workshops in harbor traditions, organic food culture, plastic free communities, student housing, and local art courses (to name a few). Our volunteer-led program was a coordinated prelude to support Gentofte's "Culture night," an established annual event promoting local cultural experiences and places. It was important that we collaborated with our citizens, small businesses, food vendors, creative consultants, and municipal leaders to capture the spirit of our treasured community while cultivating a more inclusive neighborhood. Our dinners and workshops were a great success, and they established a very constructive collaboration with the municipality by allowing us to test and curate our social program while developing a framework for future community events (Figure 9).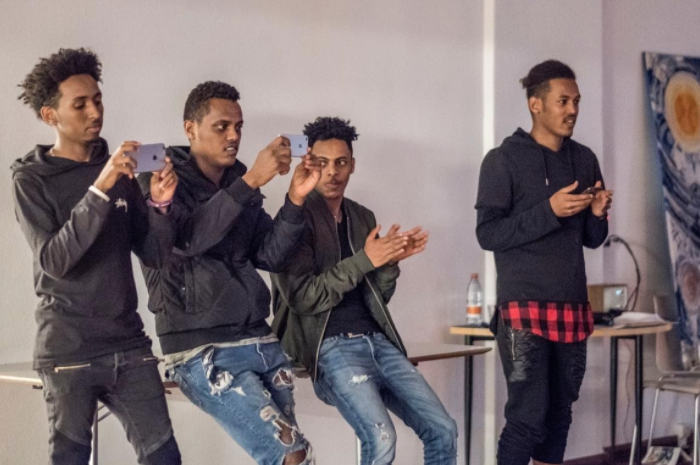 One of our more recent initiatives is the transformation of "Danmarks mindste forsamlingshus" (Denmark's smallest community house) (Figure 10, 11, 12). This project involves a run-down but otherwise charming pavilion that was a former ticket building at the local train station. Today we have hopes for creating a shared community house owned and operated by local associations to host activities and promote new social interaction. Local kindergartens or cycling enthusiasts can make a pit-stop at the pavilion before exploring the adjacent forest trails, or the venue could be the setting for a pop-up café, small outdoor concerts, or new immigrant mentorship.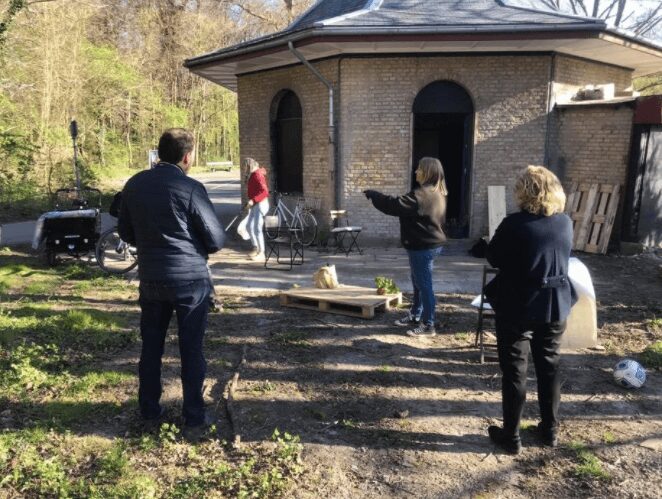 While Sharinggentofte is still in its early years, we are extremely inspired by how far we have come in shaping our sharing community. Sharinggentofte stands for sharing knowledge, sharing support, sharing voices. Our greatest hope is that at the end of the day, everyone feels included. It is not about titles or power; it is about being part of a larger whole, and understanding your value and voice in your community. We hope our ideas will continue to be shared, scaled, and supported within our own municipality and across cultures and borders. There is no limit to how we can measure this success, but the work starts now – let's go!