Dear colleagues,
An estimated 30-40 million Americans are at risk of eviction, in what maybe the country's worst housing crisis in its history. Although the Centers for Disease Control and Prevention issued a temporary halt in residential evictions until the end of the year, it will delay mass evictions but not solve the rental crisis, according to Emily Benfer, a housing expert and co-creator of a Covid-19 housing policy scorecard with Princeton University's Eviction Lab.
Living in a stable, adequate home that is affordable to the household yields a multitude of opportunities and stronger outcomes for children, youth, and adults with respect to employment, health, and education throughout people's lives and in future generations. Without stable housing, young people are more vulnerable to mental health problems, developmental delays, and poor cognitive outcomes. Educational outcomes for children are also improved with housing stability and young people in stable housing are less likely to repeat a grade and less likely to drop out of school. Access to affordable housing reduces food insecurity and school mobility, strengthens family well-being and dramatically reduces child separations, domestic violence, and psychological distress. Further, many studies have also demonstrated that supportive housing, which combines housing with more intensive supportive services, has been shown to help people with disabilities exit homelessness, improve their health, and, by reducing their use of crisis services, lower public costs.
As Leilani Farha, UN special rapporteur on adequate housing, writes in a Guardian article, "This pandemic has shown governments can solve homelessness." Her must-do list that includes:
Ensure access to emergency and long-term housing for people who are homeless, including through securing hotel and hostel rooms and other vacant units.
Cease all forced evictions and evictions into homelessness.
Regularlise informal settlements and ensure they have access to water and sanitation.
Regulate housing costs so they are commensurate with household income.
Prohibit speculative investment in housing that contributes to unaffordability and eviction.
See more ideas for how to move toward The Right to Home below.
Tasoulla Hadjiyanni, Editor
[email protected]
---
INCREASING AFFORDABLE HOUSING
Census data shows about half of renters in the city of Minneapolis struggle to pay their landlords, including residents of the Longfellow neighborhood. Since 2000, Minneapolis has lost about 15,000 housing units considered affordable while few inexpensive new apartments have been built. From 2012 to 2017, Metropolitan Council reports show Minneapolis added about 1,600 relatively affordable apartments and about 13,000 higher-priced units.
Designed by Cermak Rhoades Architects, Hiawatha Commons is Metropolitan Council's poster child for affordable housing in the pre-COVID-19/protests era. The 2040 Transportation and Housing Policy Plans expect higher-density residential and mixed-use developments with affordable units along transit corridors. Located at 2740 Minnehaha Av., this 4-story building is close to Hiawatha Light Rail station, providing easy work access to the airport, Mall of America, and Downtown. It has 80 units of affordable and market-rate rental housing and commercial space (40 studios, 24 one-bedroom, 16 two-bedroom) and with its Low-Income Housing Tax Credit, 64 units must be rented to tenants who earn less than 50% of area median income ($35,000 for a single adult, $50,000 for a family of 4). Shared laundry facilities, limited balconies, and the risk of arson/looting in ground-level retail are design characteristics that need rethinking after the pandemic and protests.
 Image credit: Tasoulla Hadjiyanni from Landscapes of Hope
---
REDEFINING HOMELESSNESS
NativeAmericans fare worsethan many other groups on a variety of measures, from homelessness to poverty and health/educational disparities, including impacts of the pandemic.
"Keeping the family together was her biggest concern. Her mother cared for one of her brothers and his two sons who suffered from Fetal Alcohol Spectrum Disorder, complications that can result when mothers drink while pregnant. The Centers for Disease Control and Prevention (2002) point to Native Americans having some of the highest rates of Fetal Alcohol Syndrome in the country—in some cases, the rates are as high as 1.5 to 2.5 per 1,000 live births compared to between 0.2 to 1.0 for other groups. Winona's worries were grounded in the rules and regulations that govern how homes are allocated in a reservation:
"The problem with elder homes is that they never pay rent, they are granted a home. Like my mother, they offered her an elder's home but in this case, once you pass on, your house goes to the reservation.
My mother lives with my brothers so my brothers will be homeless."…………………………………………………………….
Recognition of the instability of an individual's living arrangements, as in the case of Winona's brother and nephews, is critical to an expanded definition of homelessness as noted by the National Health Care for the Homeless Council. Although definitions of homelessness vary, referring typically to individuals who lack a fixed, regular, and adequate nighttime residence, they need to account for "doubling up," a term that refers to a situation where individuals are unable to maintain their housing situation and are forced to stay with a series of friends and/or extended family members…………..In fact, homeless and near homeless adults on reservations in a study by the Wilder Research (2006) in Northern Minnesota have been found to report lower levels of individual distress, such as problems with health or violence, than those residing outside reservations. Another reason why keeping the family together is what Winona hopes to do."
Excerpt from The Right to Home – Chapter 6 – Ojibwe Stories, p. 204
Image credit: Tasoulla Hadjiyanni
---
REBUILDING LIVES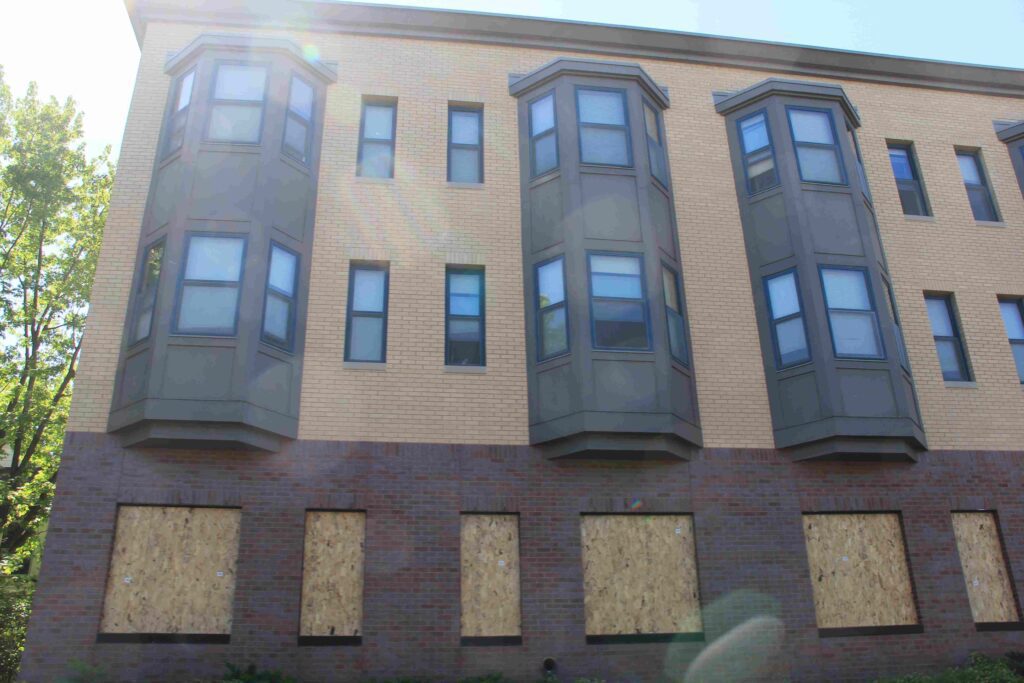 [Upper left] – Nicollet Square is one of Beacon's 18 buildings that provide supportive housing to those in need. In addition to affordability, supportive housing means residents have access to support services and advocates right in their building for jobs, education, community connection, health, etc. Nicollet Square has 42 units aimed at young adults transitioning out of homelessness and foster care. Tenants are between the ages 16 and 21.
[Lower left] – Plywood used to protect buildings across the Twin Cities, such as CareerForce, can find a new life asminiature rental homesfor people living with homelessness.Settled,a Twin Cities-based homeless advocacy group, is asking for donations to help build "Sacred Settlements" on church properties. Partly because of the not-in-my-back-yard approach,Gabrielle Clowdus, one of the co-founders noted that Settled relies on faith-based organizations for "zoning-exempt" sites and other resources. A prototype built last September sits in the parking lot of Woodland Hills Church. The homes are compact, about 10 feet by 20 feet, and they include a bed, a toilet area, a kitchen table and a kitchenette. Each takes a couple of weeks to build and around $20,000. Donated plywood can shave $450 to $500. Community advocates and trained volunteers live alongside the formerly homeless residents to ensure a thriving settlement. To donate, call 512-788-0344.
[Upper right] – Model Cities provides supportive housing for those considered chronically homeless, such as BROWNstone lofts.[Lower right] – Minnesota'shomeless population reached a record number in 2019, over 10,000 people.African Americans and American Indians are over-represented in Minnesota's homeless population, partly due to lack of affordable housing and availability of rental units. Learn more by looking at stories of organizations such as the Ascension Place Haven Housing at The Mapping Resilience Project.
 Image credit: Tasoulla Hadjiyanni from Landscapes of Hope
---
THE ROLE OF ARCHITECTS
Architects have a role to play in designing supportive housing and recognitions along with awards can communicate the importance of these buildings and the discipline's commitment to social justice.
Chosen as one of Finance & Commerce's Top Projects for 2019 is Great River Landing, designed by 4RM+ULA. James Garrett Jr, AIA NOMA, Partner and architect, spoke about the importance of this place of stability for 72 adult men recovering from the traumas of unemployment, homelessness, and incarceration. Examples include each floor being designated not by a number, but by colors and inspirational symbols. Reclaimed wood is used in the finishes – the decidedly imperfect flooring in the front entrance serves as a bridge from the outside world to the home. The building also provides amenities like classrooms, meditation spaces, meeting rooms, and lounges to encourage personal growth through communal living.
Focus groups with some of the first residents were instrumental in informing the design. The playground wasn't in the original plans. "Originally it was planned to be a basketball court," Garrett said. "But the men talked about their kids and how they wanted the building to be a place they could be with them."
Image credit: https://finance-commerce.com/2020/07/top-projects-of-2019-great-river-landing/